What Material Should I Use for a Retaining Wall?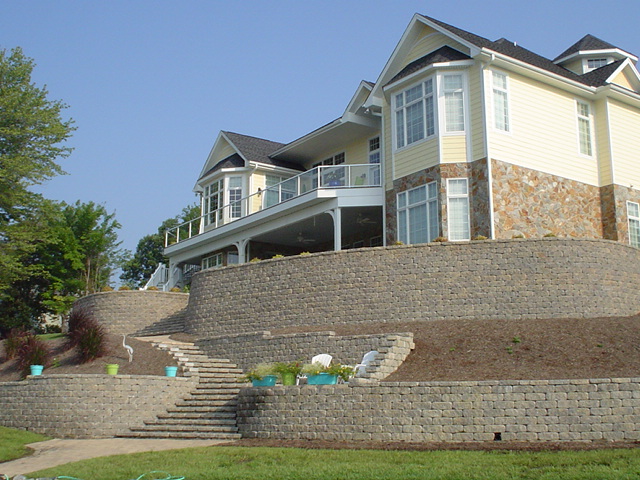 Retaining walls are often used to improve landscaping for yards with slopes and hills and they have also become a popular aesthetic feature in relatively flat yards as they can be created in almost any environment. Using them in a yard that doesn't have a natural slope adds texture and layers which can help to break up an otherwise dull landscape. Generally speaking, retaining walls are made from concrete, brick, timber or natural stone. These materials offer the variety and durability homeowners needs as well as accommodating almost any budget.
Wood / Timber – Wooden retaining walls are a popular choice for traditional Craftsman and Bungalow styles. The wood must be specially treated and maintained yearly in order to prevent rot or damage from wind, rain and other elements. The wood can be stained to a natural finish or painted to match the color of the home, plants or surrounding landscape.
Concrete / Brick – Using concrete or brick is one of the most economical choices and it's also a good match for traditional brick homes and Colonial styled houses. Brick retaining walls are held together by mortar which may need to be touched up periodically and should be inspected regularly. Concrete options do include interlocking shaped bricks which do not need mortar, but these walls are limited in terms of height.
Natural Stone – Incorporating natural stone into the landscape creates a rustic, organic feel. This option might be more costly upfront because of the labor and materials required for installation but, overall, walls made from natural stone or natural stone tiles require less maintenance than other options. This look is a perfect pairing for ranch homes, cabins and other rustic styles.
Taking the time to understand the advantages, limitations and requirements for these building materials can help homeowners make a more informed decision. The decision on which material to use should be made by considering the budget, the style of your home and how much maintenance homeowners are willing to take on in order to care for their retaining walls.