Highest quality of natural
Stones For Commercial Use
A true passion for what we do and a love for countertops is what makes Amanzi different. Any company can sell you a countertop, but at Amanzi, we make sure that the countertop you buy is not only the highest quality but also the exact right one for your home. Our commitment to stellar customer service means we leave no stone unturned – literally – to help you with your purchase. You will leave happy-guaranteed!
Our core values are trust and reliability. To us that means that we must always meet or exceed your expectations for service. We realize we are only as good as the product we sell, so we go to exceptional lengths to make sure all our countertops are made to the highest standards.¿
Our product is truly built to last a lifetime. Amanzi's state-of-the-art facility allows us to produce the highest quality countertops available. Rest easy knowing that your satisfaction is 100% guaranteed. The quality of our countertops is unsurpassed and comes with an industry-leading warranty.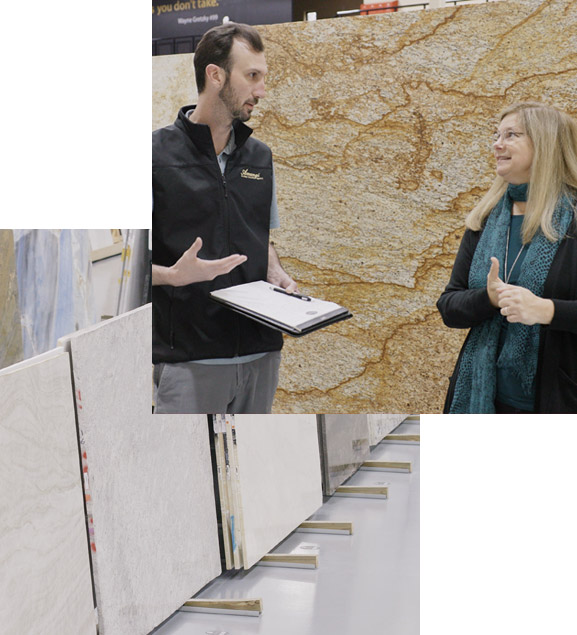 Each and every one of our team members is trained to the highest of standards.
However, training alone can't instill in people the values that we have. So we choose our employees carefully to ensure that their passion for customer service and quality countertops match our company ideals. A true passion for what we do and a love for countertops is what makes dealing with Amanzi different.
When you visit us to look at countertops, you are going to be pleased with every aspect of your visit. We simply refuse to give bad service or sell an inferior product. That's our commitment to you and it's one that we honor every single day—come visit us and let us demonstrate our commitment to you.
Schedule Your FREE
in-house estimate
From beginning to end, we guide you through our streamlined process and strive to make it easy, fun, and efficient.
Take $100 off when you join our mailing list!
Join our mailing list to receive $100 off your new granite, marble, quartz, quartzite, or porcelain purchase of $2,000 or more.