[et_pb_section][et_pb_row make_fullwidth="off" use_custom_width="off" width_unit="on" use_custom_gutter="off" custom_padding="0|" padding_mobile="on" allow_player_pause="off" parallax="off" parallax_method="off" make_equal="off"][et_pb_column type="4_4″][et_pb_post_title admin_label="Post Title" title="on" meta="on" author="on" date="on" categories="on" comments="off" featured_image="off" featured_placement="below" parallax_effect="on" parallax_method="on" text_orientation="left" text_color="dark" text_background="off" text_bg_color="rgba(255,255,255,0.9)" module_bg_color="rgba(255,255,255,0)" title_all_caps="off" use_border_color="off" border_color="#ffffff" border_style="solid" custom_margin="||0|" custom_padding="||0|" /][et_pb_text admin_label="Text" background_layout="light" text_orientation="left" use_border_color="off" border_color="#ffffff" border_style="solid" custom_margin="0|||" custom_padding="0|||"] [shareaholic app="share_buttons" id="21407147″]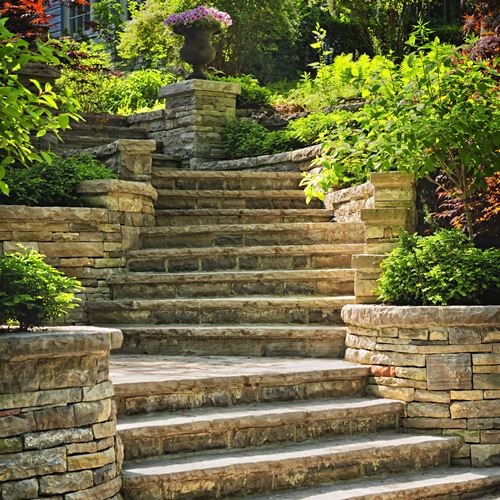 Typically, people tend to think of front and back yards as being fairly flat and able to be maintained easily and used for a variety of parties, get-togethers and gatherings. For land with slopes and hills, however, even simply mowing the lawn can become an exercise in frustration. Retaining walls and built in pathways can help to mitigate this frustration and transform the aesthetic of the yard.
Retaining walls can be made from brick, wood, or natural stone and offer a number of simple but fundamental benefits. Primarily, these walls and paths are used to even out the landscape, making it easier to enjoy and easier to maintain. Raised retaining walls can be used simply to layer the yard or incorporate into raised garden beds.
Natural stone is a popular choice for both retaining walls and pathways because of its natural beauty and durability. While both wood and brick are other popular options, the extra maintenance they require makes them less economical in the eyes of many homeowners. Natural stone, however, does require less routine maintenance, a convenience factored into its somewhat higher initial cost. This cost is worth it for homeowners who want the unique look and style which can only be achieved through the various colors, textures and organic shapes of natural stone. While stone can be at the top end of the budget, wood, brick and concrete can all be used to reduce costs while still achieving a beautiful look. For many homes, the clean, crisp lines both wood and brick offer make a better pairing for the architectural style of their home.
Installing retaining walls and pathways can go a long way in helping cut down the maintenance involved with having a yard with slopes or hills. Homeowners can still have the storybook layered look this type of terrain can offer, but without the headache of trying to mow, weed and garden around inclines and slopes. Instead, these walls can help people to establish set areas for gardening, entertaining and simple landscaping. Choosing the right material that compliments your home and fits into your budget can help to ensure the project is an investment worth making.
[/et_pb_text][/et_pb_column][/et_pb_row][/et_pb_section]