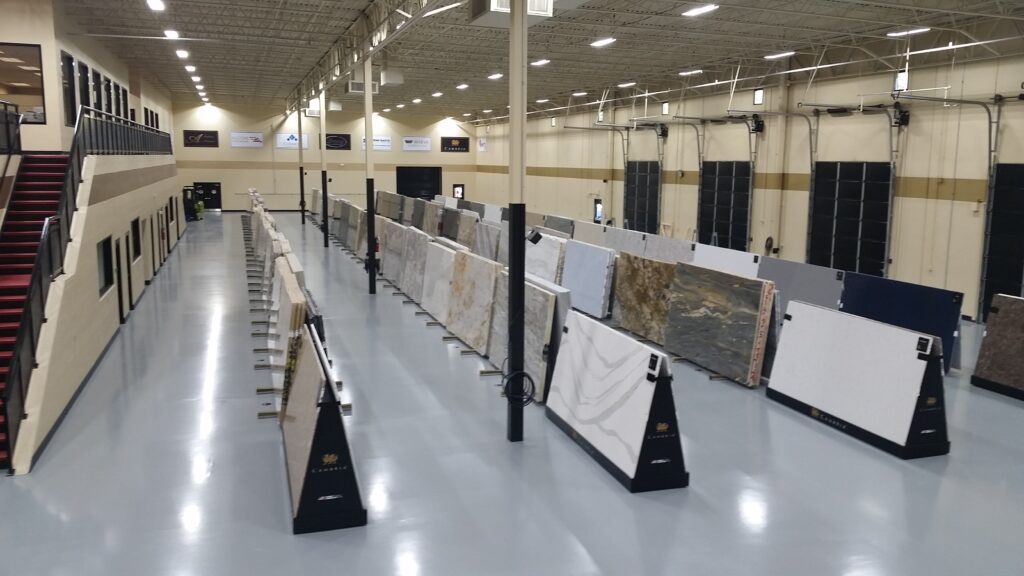 A dream years in the making is now set in stone for Amanzi Marble, Granite, and Tile.  In early October, the company welcomed customers to its new showroom at 703 Park Lawn Court in Kernersville, and they've been coming in droves ever since.
The 40,000 square foot showroom, once the headquarters for NASCAR Sprint Cup Series Driver Kevin Harvick and his team, has been transformed into the Triad's leading supplier of top quality granite, quartz, marble and tile.  Customers can now browse through an immense indoor granite yard just in time for the cooler weather.
Amanzi owner Omar Kalaf has had his eye on the Kernersville facility for years, and when it came back up for sale earlier this year, he jumped on the opportunity to move his growing company from its smaller, tighter quarters just a few miles east of the new showroom.
In addition to the indoor slab yard, the new showroom also features a beautiful new tile studio.  "The tile studio is very popular with our customers," said Vice President Tammy Marsh.  "While they may visit initially for stone countertops, once they see our vast tile selection they're suddenly inspired to purchase or make changes to their existing tile as well."
The additional space in the new building also allows more customers to be served at the same time.  The showroom officially opened its doors to the public on Monday, October 3rd, and despite a visit from Hurricane Matthew, later in the week, it was one of the busiest Saturday's in the history of Amanzi.
There are even more changes in the works – planning has begun on a new "Kitchen Accent Studio",  which will feature every surface material needed for a complete kitchen renovation, including not only the countertops and backsplashes, but right down to the flooring, faucets and other unique accents.    The Kitchen Accent Studio is expected to be unveiled before the end of the year.
The showroom is open Monday through Friday from 8am to 5pm and on Saturdays from 10am to 2pm.  A Grand Opening date will be announced soon.