[et_pb_section][et_pb_row make_fullwidth="off" use_custom_width="off" width_unit="on" use_custom_gutter="off" custom_padding="0|" padding_mobile="on" allow_player_pause="off" parallax="off" parallax_method="off" make_equal="off"][et_pb_column type="4_4″][et_pb_post_title admin_label="Post Title" title="on" meta="on" author="on" date="on" categories="on" comments="off" featured_image="off" featured_placement="below" parallax_effect="on" parallax_method="on" text_orientation="left" text_color="dark" text_background="off" text_bg_color="rgba(255,255,255,0.9)" module_bg_color="rgba(255,255,255,0)" title_all_caps="off" use_border_color="off" border_color="#ffffff" border_style="solid" custom_margin="0||0|" custom_padding="0||0|" /][et_pb_text admin_label="Text" background_layout="light" text_orientation="left" use_border_color="off" border_color="#ffffff" border_style="solid" custom_margin="0|||" custom_padding="0|||"] [shareaholic app="share_buttons" id="21407147″]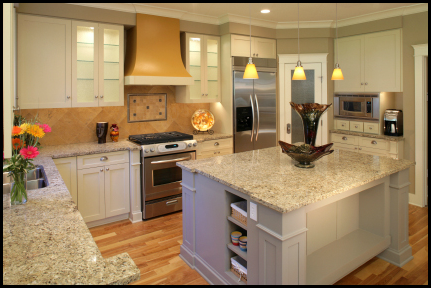 Before you start shopping for granite countertops, a Greensboro stone fabricator offers these tips to keep in mind, to ensure you choose a product that is not only beautiful, but also durable.
1. Cut costs by not using an under-mount sink. The manufacturer usually cuts the granite countertop you buy to fit the type of sink you use. Under-mount sinks require more cutting than drop-in sinks, and make the slab more expensive. It's best to buy the sink before you buy the countertop.
2. Buy thick. The widely available ¾ inches countertops are more fragile and require laminate edges and supports, making them a more affordable investment, but one that might disappoint you in the long run. Go for 1 inch countertops. You will pay more, but you will get superior quality.
3. Look out for hairline cracks and natural pits. They add to the natural beauty of the stone, but sometimes can also make it more likely to get damaged, especially when the thickness of the countertop is less than 1 inch. Ask the stone fabricator or seller to explain how those imperfections affect the stone, and whether they can cause harm.
4. Get a custom designed edge to fit with your cabinet detail. Not all fabricators will let you customize edges, but those that do can provide you with a countertop that is more appealing and fits better with your home. If standard is okay for you, then bevel edges are a popular choice.
5. Opt for seamless granite countertops. These are more expensive than those using seams, but they look better. Seams tend to look worse with time, and although when your countertop is freshly installed they are okay, in five or ten years they might make you desire a new countertop.
It can be in your best interest to buy granite countertops from local providers, as you can contact them at any time, visit their showroom and granite options as well as save on transport costs. Ask as many questions as you need to make sure you are getting the best granite to suit your needs.
[/et_pb_text][/et_pb_column][/et_pb_row][/et_pb_section]