Stylish Kitchen Sink Trends
Kitchen sink shopping only gets more interesting each year! With the many stylish kitchen sink trends on the market today, you can have more practicality and style than ever before. Providing contemporary coveted construction with more functionality and convenience, designers are definitely getting it right!
From serious chefs to those in your house stuck with dish duty, the following kitchen sink trends will inspire you to make a change as soon as your home improvement fund will allow.
Time to Accessorize!
Sink accessories are a top new trend and you might be able to make your current sink workable for these stylish additions. Shaped and cut to fit right over the sink basin, new cutting boards and colanders need no longer take up counter space. Ask your sink manufacturer if they offer special accessories built especially for your sink size and shape. For kitchens with granite and marble countertops, you might be able to find stone accessories made to match.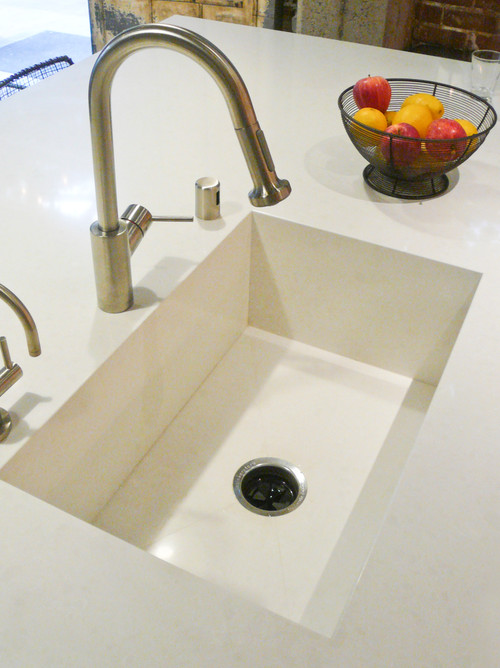 Undermount & Integrated Bowls
It's likely that the sink in your home right now has a top rim, but the new trends in kitchen design are moving away from that style. Especially suitable for stone construction, like granite or marble countertops, undermount and integrated sink bowls are quickly becoming the new standard.
Undermount sinks are installed from below the counter, eliminating that top lip and providing a streamlined look. Integrated sinks are made from the same material as the countertop, creating beautifully seamless looks in quartz, granite and marble countertops.
Apron Sinks
When you can see the front of the sink basin – often made from porcelain and rectangular in shape – that's likely an apron sink design. The apron sink can give your kitchen a country look, as this was a popular style in old farmhouses. If you don't care for porcelain, try hammered copper or bamboo for trendy apron sink style with durable construction.
Kitchen Sink Creativity
It's becoming clear that kitchen sink choices are better than ever and these new trends offer the best in class and convenience. If you're an experienced cook, you might crave one of the trending small food prep sinks in your kitchen, too.
The sky's the limit and the basins are beautiful! Have fun selecting kitchen sink styles that will give your décor a lift and your workload some relief.