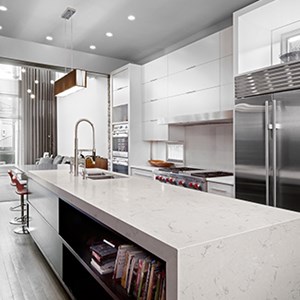 When it comes to choosing countertops for your kitchen or bath, there are a lot of factors to consider. One of the first decisions you'll want to make is what type of surface works best for you – granite, marble or quartz?
You can't beat quartz when it comes to durability. Of these three surfaces, only natural quartz is 100% non-absorbent. This is a great benefit for kitchen countertops, because quartz cannot absorb food or liquids. It also needs no sealing or polishing, unlike most other natural stone surfaces. It is virtually maintenance-free.
If you do choose quartz for your kitchen or bathroom renovation, you now have a choice of finishes – the traditional polished finish, or the trending and contemporary new matte finish. Amanzi is proud to be the leading source in the Triad for Cambria, the premier quartz brand in the US. Cambria has recently launched its Cambria Matte series, which opens up many new design possibilities for modern kitchens and baths.
So, which sheen will work best in your remodel — glossy or matte? Here are a couple of factors to consider:
• Is your countertop a magnet for sticky little fingers? If you have young children, (or even a not-so-neat spouse) you may want to test out some matte surfaces before choosing. Some matte finishes do a great job of hiding greasy fingerprints, others don't.
• What is the lighting like in your kitchen or bath? A glossy quartz countertop will bounce light off its surface while a matte work surface will tend to absorb light. If you have plenty of natural light and a variety of task lighting in your kitchen or bath, a matte finish may work beautifully.
• What is the style of the room? Matte countertops evoke descriptions like "leather" and "suede." This type of finish can look great in both traditional and ultra-contemporary rooms.
Because each slab of natural quartz is unique, it's best to check out lots of different samples before making a final decision on your finish. We'll see you in the showroom!